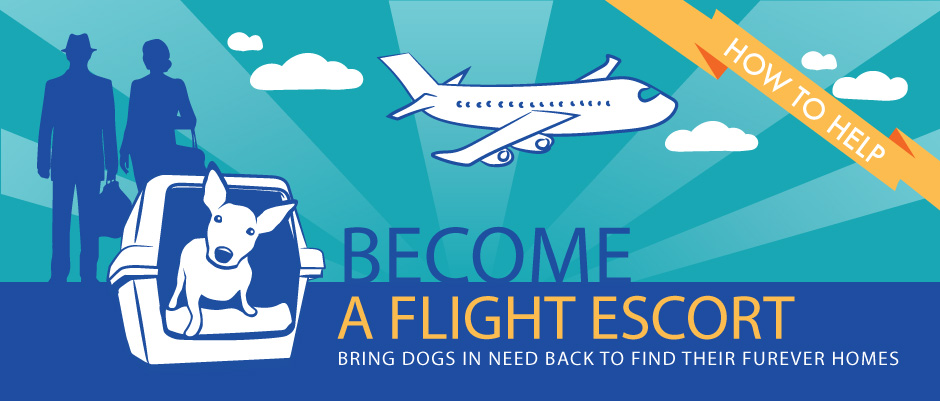 Did you know that your upcoming vacation can be more than a fun and relaxing time with friends or family?
What if we told you you could save multiple lives - with hardly any effort on your part?
We are always looking for flight escorts flying with Westjet, Air Transat or Alaska Airlines to help dogs get to (or across) Canada to begin their new lives. By escorting a dog, you're not only saving that precious life, but the one who can be saved because of the freed up space at the shelter!
So what's involved in such an adventure?
First we need you to email our Transport Coordinator at transport@pawsitivematch.org to let her know of your upcoming flight so we can begin working on details with our partner rescues and have you book crate space on your flight as needed.
We may ask if you'd be willing to bring crates with you on your trip to hand off to our partner rescue. These can be checked at the same time you check your regular luggage at the airport and a rescue volunteer will take them from you after you land at your destination! Crates are extremely difficult to find in Mexico, and if they are found, they are very expensive for the shelter to purchase.
Enjoy your holidays as you normally would!
On the day you leave, you'll meet a volunteer and the dog(s) you are transporting (as well as their paperwork) at the airport and will get checked in through security. Depending where you are flying from there are different security processes which we can provide further details on, but they are not much more in-depth than what you already go through and paperwork is mostly handled by the rescue. If your dog(s) are travelling as checked luggage, once they're checked in, the rest of your flight is as normal! If you have a dog travelling as carryon, you just have an extra cute travel partner to enjoy the flight with.
Upon landing in Calgary you will pickup your luggage as normal and collect any dogs that were checked from the "fragile/oversize baggage" area. You will then head over to "Secondary" at customs where they'll go through your paperwork and check on the dogs. In our experience, this takes approximately an additional 20-30 minutes.
Once finished in Secondary, you meet up with our transporters in the airport who will take the dogs from you, let them have a quick bathroom break, and transport them to our facility where they will be vetted before heading off to foster homes, and you are free to head home knowing you just did a great thing!
Any charges or fees incurred to the traveler when booking crate space or while going through Customs will happily be reimbursed by Pawsitive Match.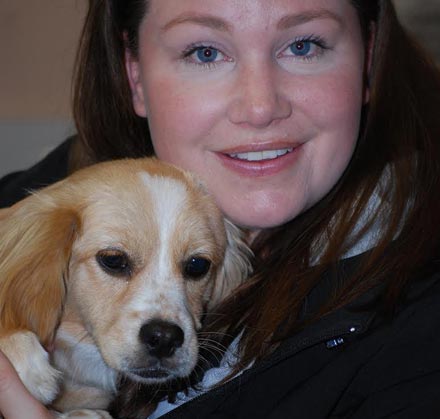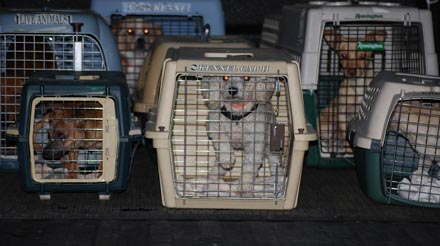 WestJet Volunteers / Alaska Airline Dollars
We can always use help from WestJet employees to transport dogs from Los Angeles and various other locations. We would also be grateful for any buddy passes or Alaska Airline Dollars that are donated. If you are able to help, please send us an email.
Why Flight Escorts Save Lives
Mexico
Since the beginning, Pawsitive Match has had a focus on saving dogs from Mexico where there is an abundance of unwanted and unaltered animals - which only increases the overpopulation problem! We are proud to partner with local rescues and shelters in Mexico to assist in their goal of spaying and neutering local animals to reduce the future populations, increasing education and awareness of the locals, as well as finding loving homes for the current dogs in the shelter to allow more needy dogs to be saved.
California
Pawsitive Match also works with rescues in California to rehome small dogs. Chihuahuas are the second most common dog turned in to the Animal Foundation and in 2014, 4700 dogs were put to sleep due to health or lack of room - half of which were either pitbulls or chihuahuas.
Other Locations
Pawsitive Match has recently welcomed dogs from Thailand, the Dominican Republic and Jamaica. When possible, we try to help wherever we can as we believe every life is important.
Though heavily involved in the rescue and rehoming of dogs originating in other countries, Pawsitive Match is well aware of the overpopulation of dogs on local reserves as well as puppy mills and abandoned dogs across the country. Pawsitive Match remains committed to assisting and rehoming local dogs and works closely with the Alberta Spay and Neuter Task Force and other rescue groups to find these dogs the forever homes they deserve.
We are also seeking flight escorts from several different areas across Canada. If you're not sure if we can utilize your flight, please just email transport@pawsitivematch.org and ask!