Fundraising Events
SEPTEMBER 23, 2017 11am-6pm

FREE ADMISSION

Shaw Millenium Park

What is VegFest Calgary?

VegFest Calgary will be a historic event, focused on unifying and enhancing one of the biggest cities in Canada. It will be a day-long outdoor festival, drawing inspiration from some of the most successful Vegfests in the world. This community event invites people from all walks of life to an immersive vegan experience, featuring local vegan products, exciting speakers, and delicious food samples and sales. We believe the city is ready to be a part of this massive global movement!

Pawsitive Match will be set up with a booth and a couple of doggies, selling bargain doggy merchandise! Stop by to say hi and learn about adopting, volunteering, and fostering!

Stop by to meet: Viola, Ginger

First Annual Calendar Launch

Pawsitive Match has been holding a calendar contest for five years now! Every year, people can nominate their dog or cat to be featured, and then encourage others to vote by donation. At the end of the contest the 13 dogs and cats with the highest dollar amounts raised get featured in our calendar. This is by far one of our most successful fundraisers, with all donations going directly to our medical needs. This year we managed to raise an amazing $17,556.00!!!

You can see this year's contest entries here

This year we have decided to add something different - a launch party! We are very excited to be able to reveal our new calendar, introduce each winner, and thank our amazing photographers.

Please join us for a fun filled evening where we will celebrate our fur-abulous dog and cat models, have a 50/50 raffle, and a small silent auction! All funds raised will go directly back to our rescue animals.

Tickets are $20 and include a burger and one drink.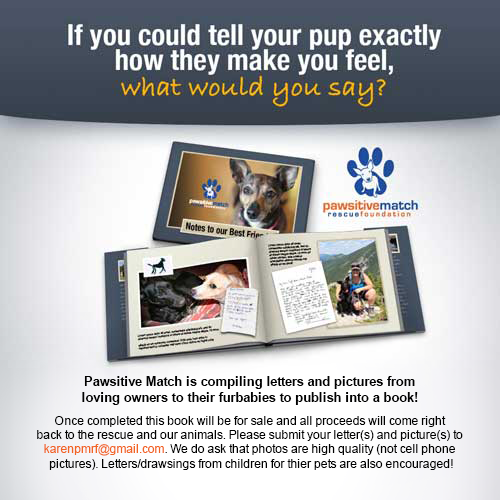 If you have any questions contact Betty at bmackinpmrf@gmail.com.
We also stage regular adoptathons throughout the year, as well as Pawsitive Match Rescue Foundation holds weekly adoption events with the help of our local Calgary and area retail friends. Click here to see our upcoming adoption events.
If you have an idea for an event or fundraising campaign, we'd love to hear from you! Contact us at fundraising@pawsitivematch.org. We are also always in need of volunteers to help organize and run adoptathons or fundraisers. If you have some extra time and would like to help us out, check out the Volunteer page.