In Loving Memory of Our Faithful Friends and Companions
"It came to me that every time I lose a dog they take a piece of my heart with them, and every new dog who comes into my life gifts me with a piece of their heart. If I live long enough all the components of my heart will be dog, and I will become as generous and loving as they are."
- Anonymous
This page is dedicated to the memory of the dogs and cats who have been a part of the Pawsitive Match family who are no longer with us. We are always incredibly sad to hear when a PMRF rescue dog or cat crosses the Rainbow Bridge. However, we know they spent their last years being adored and cared for by the special people who adopted them. Below you will find photos and stories of some of the dogs and cats that are now waiting for us at the Bridge.
If you had a PMRF dog or cat that has passed on, you are welcome to submit a photo and story via email to general@pawsitivematch.org and it would be a privilege to include it on this webpage.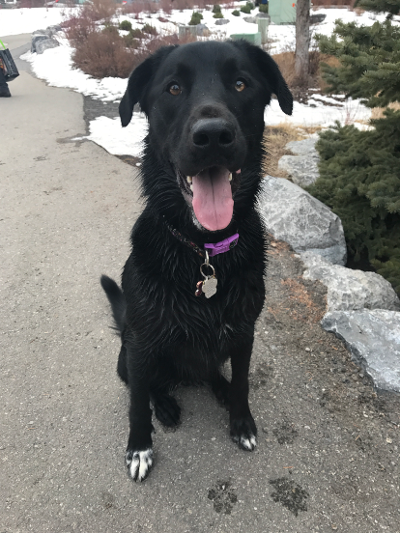 Sadie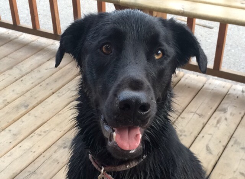 Sadie (or Sadie Cakers) was the smartest and funniest dogs ever, with just enough sass. She learned every trick so fast and had very good manners. She loved swimming, hiking (3 insane summits), playing with her basketball and was frisbee obsessed! She passed from chronic liver disease that had been affecting her for a while but she never let us know until she couldn't hide it anymore, and died of liver failure just 2 days after we found out something was wrong. She was my best friend in the world and we will always love her.
Samantha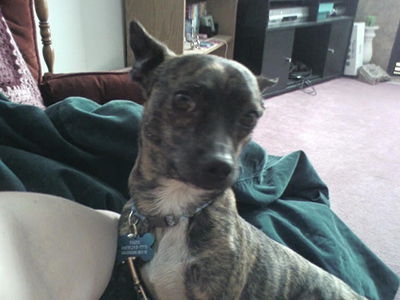 Tiger
We had the extreme privilege of welcoming Tiger into our family 7 years ago. While he had many health issues over the years he never let that get him down. Tiger was the most joyful and loving dog I have ever encountered. He loved to give kisses and could never get or give enough love. His joy was infectious and nothing could contain it; he was the worst at playing dead as his tail could never be still. Even in the end, fighting stage 4 renal failure he tried to be positive and fight as long as he could. Tiger passed away May 1, 2017 in the arms of those who loved him. He was a blessing to everyone he met and he is missed more than I can express.
Stephanie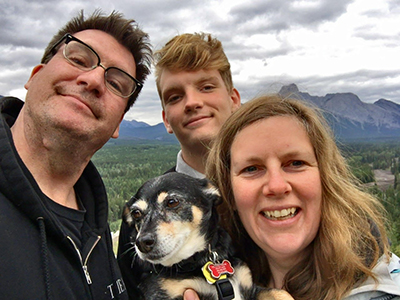 Lucy
Nighty Night Lucy (aka Princesa Burrito) - February 6, 2017.
Though our time together was short the memories will last a lifetime. Christine, Will and I are thankful for every second with our Little "Goo-Goo". As our first dog, she was everything a new dog owner could ask for! Maybe even the boys (aka our cats) miss her bright and joyful spirit...well, a bit.
Poor little Lucy had a heart condition when she came to Canada from sunny California in September 2015, but her last year of life was filled with beautiful walks and many bike rides with her family in her special dog bike seat and of course unlimited love. Medical treatment for Lucy helped but, alas Lucy could not fight anymore and we all had to say our good bye's. As her humans, we are happy to know Lucy is no longer suffering but we are still heartbroken and terribly sad. We will miss Goo Goo forever but our lives are the better for having her as part of our family even for the short time.
Dean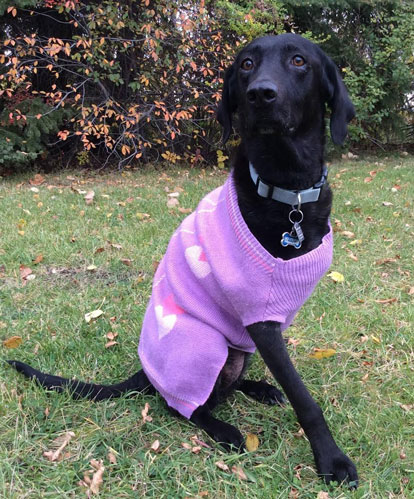 Bella
We just said farewell (for now) on November 8th, 2016 to our beloved tripawd dog Bella who we discovered struggled with lung cancer 6 months after we brought her into our home from Pawsitive Match in September 2013. Bella who came to Calgary all the way from Hay River, NWT, was valiant, brave and resilient and despite being told by our vet that she would not live til last Christmas 2015, she certainly did not get that memo!
Bella, AKA: Bella Bong, Beautiful, Our Brown Eyed Girl, Bella Blue and Bella the Bathmat. How fortunate were we to have been blessed by her amazing nature, gentle soul, loving heart and protective, loyal presence in our lives. Right to the very end even. Lots of tears today, but it is OK because where she is now, she's got 4 legs again and I'm so happy for her...so thankful we were chosen to have been a part of her life.
For Bella's Pawsitive Match story with us, feel free to see her famous blog post about it with my dear friend, Lisa Taron, The Pet Blog Lady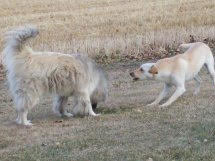 Rex
After many joyfilled years on the acreage, it came time to sell up & retire out to an island on the lovely west coast of B.C. We packed up all the canine & feline crew into comfy quarters in the motorhome & headed west November 2012. We settled into our new home, specially selected for its suitability for all the furkids, of course. One by one, our beloved seniors crossed over the rainbow bridge – first Bear, then Banjo, and finally, Tam. We were blessed to be able to adopt two more rescues after that, once our hearts had healed enough, and Rexie again had canine companionship.
Hikes up Mt. Norman, through the Enchanted Forest, along Brookes Point … and so many other trails; paddling in the beautiful blue Pacific, learning agility courses at Southridge, countless ferry rides and walks along the ocean front wherever the day took us – this was Rex's life of "retirement" in B.C.
We began to notice a slight change to his gait, an occasional tumble & unaccustomed tiring during walks. X-rays & tests confirmed our worst fears. Our beautiful lad, not yet 10 years of age, was diagnosed, towards the end of this past June, with a highly aggressive form of pelvic osteosarcoma. He was expected to have only another four weeks with us. Rex had other plans. With his incredible enthusiasm for life, he remained with us for another ten weeks, visiting one of his favorite ocean sites every morning, even those days when he needed to be carried as his body could no longer keep up with his spirit.
Rex passed over the rainbow bridge yesterday, with Chris & I holding him & thanking him for all the joy he shared with us in his too short time here. Thank you all at Pawsitive Match, for making this story possible.
Shannon & Chris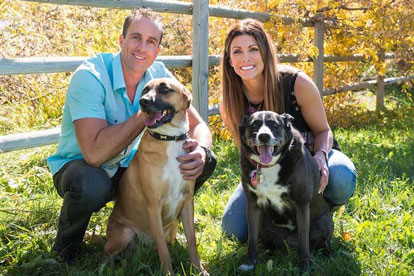 Hunter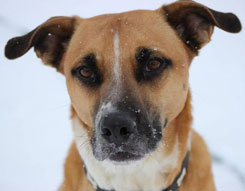 In December of 2012 we decided to foster Hunter (aka Huber!) as a companion for our dog Bailey. He was a rescue from Los Cabos and like some pups, had some quirks. Needless to say, he was quite the handful at first! We fostered him for a year and when someone finally showed some interest in him, I knew we could not let him go. I should have known he was always in his forever home! We adopted him right before Christmas of 2013. He was a special, handsome boy who cuddled like no other dog I've ever met. He loved chasing his ball more than anything and kept his sister young.
Sadly, we had to put him down on February 1, 2016. He passed away in our arms while we told him we loved him and that he was a good dog. We are still hurting from his loss and miss him dearly.. the house is very quiet without him. We cherish our memories with our special boy and always will.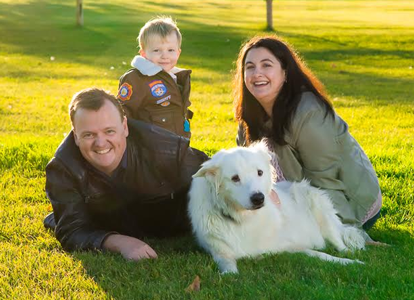 Samantha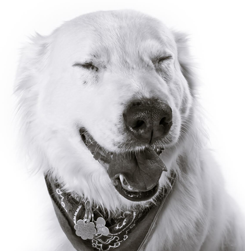 We adopted Samantha from Pawsitive Match in 2009. When we first met Samantha she was wary of humans because she hadn't been treated well in the past. While it took her a long time to warm up to friends and family, it was as if she knew we were her forever home. She befriended us the day we met her and became an integral part of our family. We will never forget how she jumped into our car that day ready to go to her new home. When our son was born Samantha accepted him as one of her herd, and watched over him day and night. Each night before she went to bed, Samantha would poke her nose in his room and check on him. When Samantha joined our family she was already a mature dog, and we knew our time with her may not be long. So we all made the best of the time we had with her and are grateful to have had six years together. It was with great regret that after a hard fight, Samantha passed on in the presence of our family. We will miss the wake-up call of her tail thumping our bed in the morning. We know that she is still watching over her herd.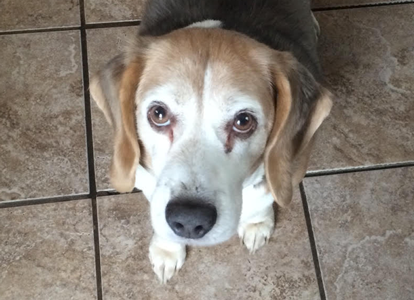 Copper
After Copper's health rapidly deteriorated in February, the vet suggested the best course of action was to euthanize. So we went to McDonalds down the street while they set up and he ate a Big Mac and 6 chicken nuggets and was pretty happy about that. When the vet pushed the sedative he started snoring like he usually did and then he passed away quietly. Copper passed on in the presence of his family.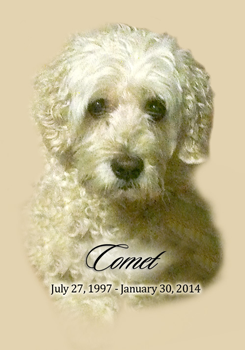 Comet
Comet was always a happy boy and enjoyed living with his loving family (which included his fur brother, Rocket) since he was 9 weeks old. He developed Parvo at 10 weeks old but survived the awful disease and went on to live to be almost 17 years old! Comet passed away at home, in the comfort of his momma's arms.
While there are many different roads that we take in life,
it is those that walk beside us that make the journey worthwhile.
My friend, although your bed is empty, and our long walks are no more,
I thank the Lord for our journey that left your paw prints on my heart.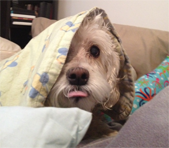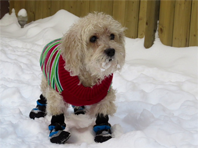 My Beloved Comet & Rocket....know that I will forever Love You and forever Miss You...You will always be in my heart!
Claudia